This needlework piece is part of my ongoing exploration of different medieval embroidery styles. A full explanation of the project can be found here.
The invention of the printing press was a boon to society, even needle workers! in the 1500s we have an explosion of printed model books full of amazing patterns.
As a student of art history, one of the things that fascinates me to no end, is that these model books were copied and reprinted by various publishers/writers all over Europe and often you see similar mistakes or errors in the patterns in many additions of the prints. The wood blocks for the printing were often reused. This phenomenon has been noted by Salazar over at String-or-Nothing and I have loved following along with her discussions of these books.
Pattern Making
I happen to have in my book collection a Charted Patterns of the German Renaissance by Susan Johnson, a paper copy reproducing some fun patterns from Bernhard Jobin's pattern book of 1589. But, with all the pieces I have made during this project so far, I want to try and chart my own pattern based off one of the model books.
One theme that I have noticed when looking through these books, is an abundance of acorns. I grew up in Ohio and had an oak tree in my back yard. I also was lucky enough to go to collage in a town with Black Squirrels, so I have a special affinity for their foodstuffs.
The other issue with the model book patterns, and their application on my little needle case is size. I need to find something that will be about two inches wide when finished. If I use my 28 count canvas, (28 threads per inch or 14 stitches going over two threads per inch) that means I need a pattern that is 28 blocks wide. I can go a little bigger if necessary but I don't want to make anything too much bigger than that as I like them all being of similar size and shape.
I was able to find an acorn pattern of sufficient size in the Italian Modelbook I Frvtti ; Opera Nvova Intitvlata I Frvtti Dei Pvnti In Stvora, A Fogliami, Nella Qvale Si Ritrova Varie, E diverse Sorti di Mostre di ponti in Stuora (etc.) on page 39 of 50. The Acorn pattern in the bottom register is 32 stitches high by 43 stitches wide. On my canvas it should be just over two inches wide and three inches tall!
For ease of stitching I copied the pattern to graph paper.
Stitching!
These model books contain many different styles of patterns including both counted and non-counted works. Non counted pieces were probably traced and transferred to fabric using the prick and pounce method. Counted patterns would have been used to make embroideries, lace, lacis, and many different styles of needle work. They also could have been traced to make fancy decorations on cover pages of books, or as designs for woodworking, sculpture or interior design.
Therefore I need to narrow down what technique I am going to use. For this piece, I would like to try to use the Assisi technique. This technique is a negative space technique which stitches the background a full color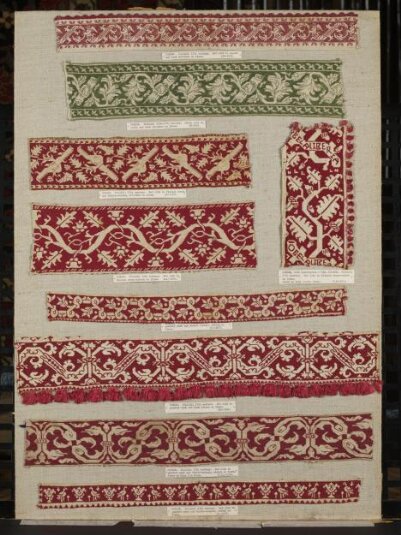 A close up of one of the above can be found on Rowdy Populace's page on Assis work. The page itself is part of a class hand out taught by Angharad verch Dafydd in 2013.
In this close up you can see the ground is stitched with an Italian cross stitch. Italian cross stitch is often described as cross stitch with a box around it, this can create a pattern on the reverse that is very similar from front to back.
if you zoom in on the close up of the historical example above, you can see that not all crosses are fully enclosed with a box, but instead just have two sides. This can best be seen along the veins on the leaves. In this particular example it appears, with some exceptions, the bottom and right sides of each x are closed, while the top and left sides are open. It appears it really is up to the embroiderer to decide which sides of the x to close based on the thread pattern and the stitches that came before them. On the thicker "leafy spines" the embroider chose to place the vertical and horizontal stitches in the center of the spine, rather than the edges, which gives a lovely effect.
While making these little stitches I learned, its not easy and its difficult to get into a flow. This is probably why in most examples of Italian cross stitch all the stitches are the same, because you don't want to disrupt that flow. I also learned you need to make each stitch one at a time. And, you don't need to make the X and then the side stitches. You make one half of the X and then one of the linear stitches before finishing the X. SIGH, this is hard! Especially for someone who has done a lot of cross stitch, indeed it feels very alien.
Another question that I do not know the answer to is if historically they always had the top thread of the X going the same direction. I think it would be pretty easy if you are making linear stitches to get into a flow to be able to do this, BUT when you get to the edges, or diagonals, you need to have some muscle memory to remember which one goes on top. Also, I am pretty proud of my coverage of this silk thread!
But, this isn't the only stitch that was used to fill a background. Kim also went into great detail about several different types of stitches that were used to fill these negative spaces. If you intend to follow along, feel free to choose a stitch that is your favorite!
The Pattern
Feel free to join in! I will be stitching with some silk floss in green on 28 count linen. Looking at the pattern you will see a bunch of Xs, but I will not be stitching the Xs, but instead the white blocks around the Xs. I set up the pattern this way because I think its easier to count the blocks than the Xs. This is how the model books are often set up.
To see my finished Italian Cross Stitch Acorn needle case click here.
Extant Model Books:
This list is not exhaustive, but it includes a good few books for you to look at! A more complete list of books is included in Helen Hough and Ranciska Ruessink's book listed below. They divide the extant modelbooks geographically and label which book the pattern comes from. Many folios appear in several different printings, some wood blocks may have been bought and sold between printers, or copied verbatim. Furthermore, these pages were probably sold as folios and then later bound, so their page orders are not original and likely incomplete.
La Gloria et L'Honore di Point Tagliati at the Metropolitan Museum of Art
Ein new kunslich Modelbuch dair yn meir dan Sechunderet figurenn monster published in 1536 in Koln, by Anton Woensam available on archive.org
Ein New kunstlich Modelbuch, Cologne, 1541 viewable on Archive.org
Model book pages by Giovanni Andrea Vavassor 1530s, in the Metropolitan Museum of Art
Johann Schonsperger's Ein New Modelbuch 1520s, in the Metropolitan Museum of Art
I Frvtti ; Opera Nvova Intitvlata I Frvtti Dei Pvnti In Stvora, A Fogliami, Nella Qvale Si Ritrova Varie, E diverse Sorti di Mostre di ponti in Stuora (etc.) 1560s, available online.
Bibliography and Further Research
String-or-nothing.com Excellent research blog on Modelbooks, patterns, stitching, and interpretations.
Charted Patterns of the German Renaissance by Susan Johnson, a paper copy reproducing some fun patterns from Bernhard Jobin's pattern book of 1589.
Design Elements of the Renaissance 2 by Helen Hough and Franciska Ruessink
Assisi Embroidery by the Textile Research Center
Long arm cross stitch by the Textile Research Center
Assisi Work by Needle'n'Thread
Assisi Work handout by Rowdy Populace
Future Needle case updates:
Looking ahead, we have many busy months. It turns out that these pieces might have been the faster pieces, at at this point I am happy to be so ahead of the game! For June we will be doing an opus anglecanum face, so we will need a flesh toned floss and maybe something pink to go with it for the cheeks, as well as some colors for the clothes/hair/veil. I have some silk floss ready for this as silk will make the best sheen.
July is Lacis so I will be ordering some canvas from Lacis.com and some linen thread to work this complex style. Amalie von Hohensee recommended Bockens 35/2 lace linen for these projects. She also noted that you do need to find a linen thread that is made for lace rather than other applications. It will be spun tighter (perhaps in a Z twist" and less prone to breakage. I found some of this thread at the Eugine Textile Center. I would imagine that a strong warp linen would work too. But, when in doubt always use something that is made for the thing you are doing. (They also have looms… looms!).
August is Metalic thread, and I ordered some gold passing thread from Geribaldi's needlework back in February and it hasn't arrived. So, this will be something to work on if you would like to follow along.
September is Needle lace, so get enough linen thread in July to work a reticella piece!
Support:
If you would like to support my art, you can donate using Ko-Fi by clicking this button: