I am a member of the Keepers of Athena's Thimble, a needle working guild in the East Kingdom. In 2020, one of the members of the Keepers of Athena's Thimble embarked on a project to created 12 samples for each of the 12 categories of the guild. One project per month. And, I am stealing this very ambitious idea, and I invite you to join me!
I plan to make 12 3"x2" needle cases with covers in each of the different categories of embroidery of the guild as listed below. If you would like to learn more about the Guild click here: The Keepers of Athena's Thimble
January: Applique (inlay and onlay)
The first category is Applique and I confess this is not my favorite technique, but I am willing to try it. I am inspired by the green and red Seal bag at the V&A museum. It uses an onlay technique which you can see where the red in a few of the trifoils has worn away.
February: Monochrome Embroidery/Blackwork (blackwork, speckled blackwork)
Blackwork is the style of embroidery that I have spent the most time doing in 2020. I have nearly completed a year-long stitch a-long project in modern blackwork and a fun blackwork style skeleton project. However, for my needle case I want to replicate a period pattern. I plan to do a flower with a fill pattern like this coif from the Victoria and Albert Museum
March: Canvaswork (needlepoint, Florentine)
I have always been fascinated by German Brickwork. While I love that some brickwork designs are used as filler for clothes and other items in large embroideries, I think I should stick to a simpler design for this month as it will be a full fill pattern and thus take a significant amount of time.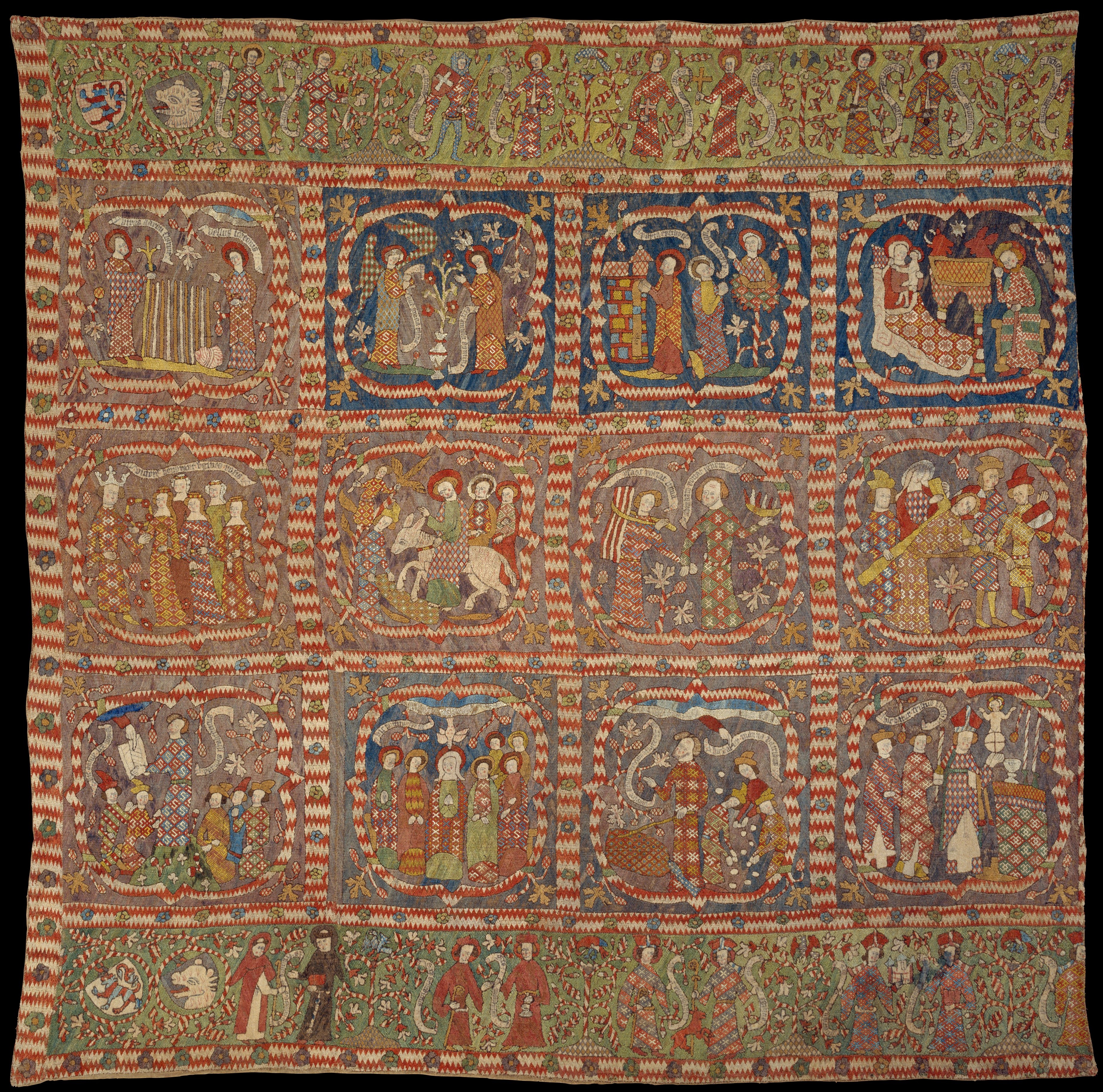 April: Couching and Laidwork (excluding metallic threads)
This category is also known as the Bayeaux Tapestry Stitch. The biggest issue with replicating a specific animal or scene from the Bayeaux tapestry on this scale is that the Bayeaux tapestry is HUGE. It will be important to find a simple motif to get the details correct.
May: Counted Thread
While extant embroidery is actually pretty difficult to find due to the way natural materials degrade over time, we do have many lovely pattern books from the 1500s which show counted thread embroidery patterns. I would like to try a small one in Assisi stitch!
June: Free Embroidery
My favorite kind of embroidery is Opus Anglicanum split stitch embroidery. For this month I would love to do a little face.
July: Lacis
We all know that I LOVE LACE. It is my favorite thing to make, to touch, to fawn over. And Lacis is a very special and peculiar way of weaving a lace pattern on a lace web. For my little needle case I think I would like to reproduce one of the floral patterns at the bottom of this piece from the Met.
August: Metal Thread (including couching of metallic threads)
I have always wanted to try an Or Nue technique. The difficulty is selecting the correct pattern for my little needle case. Often Or Nue would be used to create sparkling clothing where the embroidery would cover the shadows and folds in the clothing and the gold would shine through the highlights. I imagine it would've looked spectacular in the candle light. Therefore it might be fun to try out a few different diaper goldwork patterns in underside couching, and such. Or make a figural work using underside couching like the below example from a bishop's shoe.
September: Needlelace (reticella, tenerife, punto in aria)
My second favorite kind of embroidery is needle lace. I have not yet done a reproduction of Reticella and I would love to do that for this month.
October: Openwork (hardanger, hemstitching, drawn and pulled work, cutwork)
I only recently learned how to draw thread to do hemstitching, so I think I will practice this further on this piece while doing a simple pattern.
November: Padded Work (stumpwork, quilting variations)
A STUMPWORK STRAWBERRY of course!
December: Pleated Embroidery/Smocking
And Smocking, as the last one! I took a class in smocking this year, and I dare say I did not master it! Alas, hopefully I will figure it out on a very small scale, and be able to produce something interesting!
The Plan
The plan will be that I will make a post outlining my plans, pattern, and strategy for going about my needle case at the beginning of each month. And then at the end, I will post some progress and final images. I think this will be a fun project to keep me busy during the quarantine, and give me some beautiful samples and experience in these incredibly different embroidery techniques.
Support:
If you would like to support my art, you can donate using Ko-Fi by clicking this button: