Sometimes a style of doing something hits you over your head and says I WILL BE YOUR FAVORITE THING. It often comes out of no where.
I have never been someone interested in needle point. I have made a few piece over the years that covered the entire canvas. One was a crane needle point and the other a cross stitch of hot air balloons. Both were kits and both took MONTHS to complete. But, this year, I started a little needle case in German Bricks Stitch and I finished it only a few days later. I was hooked. Something about the geometry, and working in silk, struck me as the best thing ever.
The Inspiration: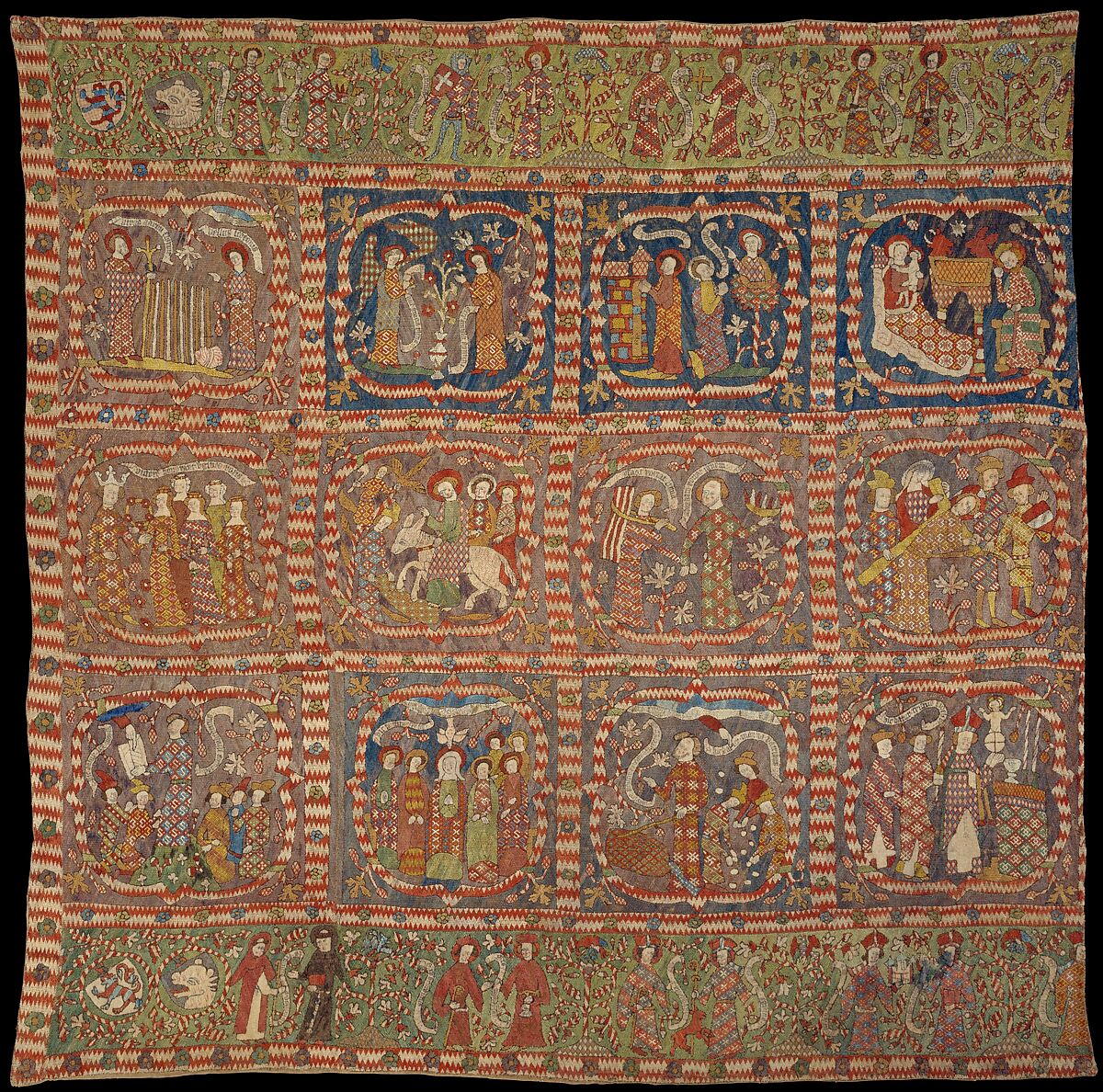 I was initially struck by this piece on Pinterest when I first started becoming interested in Embroidery in the SCA. I love all the patterns that make up the clothes on this piece. They are incredible. As Bonnie Young points out in her article on this piece, the figures are made without any attempts to make them three dimensional. There is no shading, no drapery folds, but we still get a great idea of their form, movement, and expression. We also get some amazing different patterns of clothing to entertain our eyes.
The sad part is, this piece is only half of the who embroidery. This piece once hung in the parish church of Brakel in Westphalia but the piece disappeared during WWII. Black and white photographs of this piece exist and they have some of my favorite scenes. Including an adorable and fascinating depiction of Jonah and the Whale and Jacob's Ladder. Additionally, while I would say most of the German brick work patterns on the piece are fairly simple and standard, the textile that covers the area beneath Christ in the deposition image is fabulously complex showing the skill and craftsmanship of the needle workers.
The Met website lists several publications that this work has been mentioned in, but with exception of the Bonnie Young article of 1970, few go into substantial detail about the piece. We have much conjecture: it was probably made by nuns, probably from lower Saxony, probably used illuminations as inspiration. However, none of these elements are backed up by documentary evidence.
According to Ms. Young, this embroidery is part of a larger group of embroideries from Lower Saxony, all of which use similar beautiful geometric brickwork patterns.
The Kloster Merienberg in Helmstedt houses a few very similar embroideries. The life of Saint Margaret is a hodgepodge of different scenes that fill squares. The figures are embroidered on a linen ground with a plain background. This piece is from the 14th century and includes many brickstitch clothing patterns and different textured patterns such as the spots on horses! To see some great up close pictures check out this blog Frau Bevin's Adventures in Germany by Bevin Butler. Bevin took some amazing microscope pictures of these embroideries.
Other similar embroideries include the Hildesheim Cope depicted below.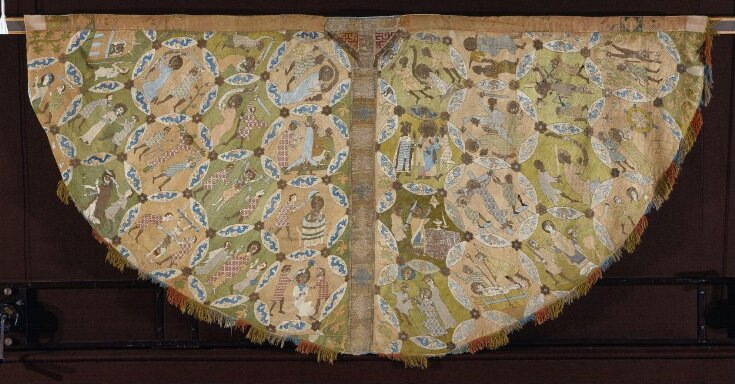 This cope is covered entirely in silk with tiny brick stitches which cover 2 strands of linen. Importantly, the degradation of the threads around the faces has allowed for us to see the ground cloth quite clearly, including the beautiful little faces that were part of the under drawing and pattern for this piece.
Where did this style come from?
As prevalent as this style of embroidery was, little has been written about it. In my research I have not found much more information than was published in the July 1996 edition of the Complete Anachronist on the subject.
The 12th century was the hay day for Opus Anglicanum, a style of embroidery popular in England which covered areas in tiny split stitches and prided itself on goldwork patterned backgrounds. It was a time consuming and arduous process that used expensive materials and a fair amount of education and skill. There isn't a lot of information which connects these two styles, they are separated by geography and also two very different embroidery techniques. But I posit that the geometric styles of goldwork and underside couching that was often seen in Opus pieces, led to an interest in geometric embroidery patterns.
For example, this piece from the Met includes figures wearing clothing decorated in an Or Nu style of goldwork in patterns that could be easily translated into German Brickwork Stitches. The piece has had a rough time through the years, as much of the red velvet ground has disintegrated, but these clothes patterns are still visible. The Met attributes this piece to the Rhineland in Germany, butting it in a similar geographic context as the Brickwork pieces.
But, let us not forget that inspiration for embroidery design and techniques often comes not from other embroideries, but other styles of art. For example, iconographic tempera paintings in Italy often included gold leaf backgrounds, which were stamped with geometric designs. These may have inspired or been inspired by English Opus Embroideries. Similar designs to the geometric patterns are found in tablet weaving techniques. After all, brocade tablet weaving is very nearly embroidery. Similar patterns can be seen in Nancy Spies Ecclesiastical Pomp and Aristocratic Circumstance, a Thousand Years of Brocaded Tabletwoven Bands. Interestingly, we often see some geometric brick work patterns along the edges of embroideries that are stitched with different techniques like Kloster stitch. It is possible that these brick stitch patterns were meant to mimic the look of woven trim.
It is indeed the prevalence of surviving pieces of German brick stitch designs that we cannot ignore. Websites like Wymarc.com and Historical Needlework Resources include lists of extant pieces pieces. Bonnie Young makes mention that it is possible that such a piece as the Met Embroidered Hanging might have be used as a sampler for the different geometric patterns in the group's repertoire. She argues too that this piece was made by a convent of nuns, and uses evidence such as the simplicity of the figures, which I think is unlikely. The figures are no more simple than other figures from a similar time and location.
Medieval artists were masters of expressionism, of using line form and figure to bring characters to life. Their aim was not photo realism, but instead accessibility to the audience. The play of the different geometric patterns is not only decorative, but meditative. Your eyes can trace the different patterns of the figures as you contemplate the divine.
Yet, after some thought of the subject, I do think these pieces could have been made by nuns, or others living in a convent. However, we must not think of this work as "women's work" or work that women did in the spare time, but instead the work of professionals. If cloistered persons were creating embroideries of this size and skill they were working in a workshop, albeit one inside a religious institution. Indeed, a 1441 account of an English nunnery accuses the Abbess of ordering her nuns about to work on needlework as if they were hired workmen. In response to this account, a bishop ruled that the Abbess should not order anyone to work, and nuns working on embroideries at their own free will should be given leave to keep half of their work's earnings, while the other half goes to the upkeep of the nunnery. Therefore, not only were nuns at this time working professionally on embroideries, but they were also being paid substantial sums for this work. For more information on nunneries I recommend Medieval English Nunneries by Eileen Power. The work is out of date I am sure, but it does include many references to primary sources.
A Bit on German Brickwork and Brickwork Stitch:
Bonnie Young's Article (page 269) includes some great diagrams of the stitches that I highly recommend you look at if you are interested in recreating this style. On their face, these are easy up down stitches that cover a canvas ground. They cover (usually) an even number of threads (2, 4, or 6). The stitches which cover the background are simple brick stitches covering four threads. Importantly, all of the stitches are worked vertically, up and down, as opposed to horizontally or diagonally.
The outlines are stitched in outline stitch (surprise!). I believe the outlines were stitched on prior to the fills being added, as the line weight of these outlines is often inconsistent.
The faces, scripts, and some leaves are made in Kloster Stitch that is then painted with ink. This stitch is made by laying down several long threads over several inches in length. Then taking stitches over them, but not horizontal couching stitches, instead vertical stitches that are about 4 threads long. It is a stitch that was well known in Northern Europe during this period, and was especially associated with monastic establishments (hence the name). This stitch is known for providing a tightly packed ground, giving it the appearance of a woven tapestry, and a good canvas to draw a tiny face.
I also know from looking at these pieces that the faces were painted on rather than stitched. This will be a challenge because I do not entirely know what to use to paint them. Initial research points to an ink using a natural binder, rather than an Iron Gaul ink that would be caustic to plant products like linen. Natural binders included gum arabic, rabbit skin glue, or egg tempora. This is an area that I intend to explore fully prior to painting any faces.
The Project
I realized after I published this post, I didn't actually talk about my project. Well, my plan is to recreate a single panel from the Met Wall Hanging, using period techniques and materials. I have already started stitching, and it has brought me much joy.
I will of course update you as I go, including a blog all about the samples I have created for this project and details about my design, but that will be fore next time!
Bibliography:
Young, Bonnie. "Needlework by Nuns: A Medieval Religious Embroidery." The Metropolitan Museum of Art Bulletin, n.s., 28, no. 6 (February 1970).
Power, Eileen. Medieval English Nunneries (1922). Available for free through the Gutenberg Project.
Master Richard of Waymarc and Timothy J. Mitchel, A Stitch out of Time: 14th and 15th Century German Counted Thread Embroidery. The July 1996 Complete Anachronist Volume 86.
The Textile Research Centre, Kloster Stitch
The Textile Research Centre, Long and Short Stitch (Brick Stitch)
Wymarc.com Pattern and discussion of the Hildesheim Cope Checkout wymarc.com for other charted patterns
A list of historical pieces including a section on Brickwork by Historical Needlework Resources
Support:
Are you enjoying following along with this project? Support me by buying me a coffee: