This needlework piece is part of my ongoing exploration of different medieval embroidery styles. A full explanation of the project can be found here.
Needle lace was the first new thing I learned at my first event in the SCA. I learned a little needle lace edging for a handkerchief (that is yet unfinished, alas). But it lead to the creation of this beautiful bunny:
Now, the casual embroiderer might ask "What is going on there?" and "How is that embroidery?" And initially, I didn't think it was concidered embroidery, but because you use a needle rather than spools (like bobbin lace) it is an embroidery. It is similar to Lacis, but rather than worked on a net, it is worked out of pulled threads or simply "in air".
Needle Lace, known it Italy as Reticella, began from using pulled thread work, and transformed into decorative beautiful lace that because the hallmark of the early 1600s (think white lacy collars supported on frames). It uses many stitches, but most are based on the button hole stitch. The entirety of my little bunny uses the button hole stitches over support threads. (Isn't he just the cutest).
Nevertheless, Mr. Bunny is not historical. Examples of needle lace before 1600 are usually fairly geometric, though there are a few figural designs.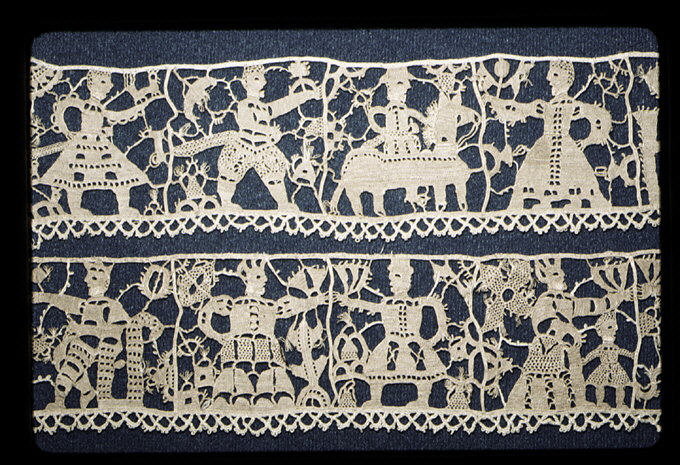 As you can see, even the figural designs of this border have a geometric quality to them. The strange shaped flowers are motifs that show up often in needle lace designs. These designs were geometric due to their origin in pulled thread/cutwork. To make a reticella piece, one would take a piece of linen and remove the threads from the area where the lace would be inset. This would be done by counting a number of horizontal threads and removing them, and then selecting vertical threads to remove. These threads would be counted, and thus imparting a certain geometric appeal in the design. A good example of a reticella piece in progress can be seen at the Cooper Hewitt museum here.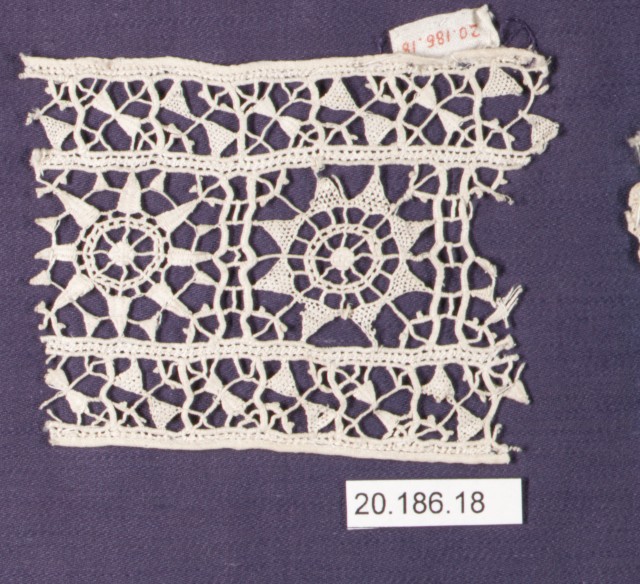 In this period needle lace was produced both professionally and domestically at the home. Model books were produced which include patterns for needle lace collars and borders. (To read more about model books click on this post).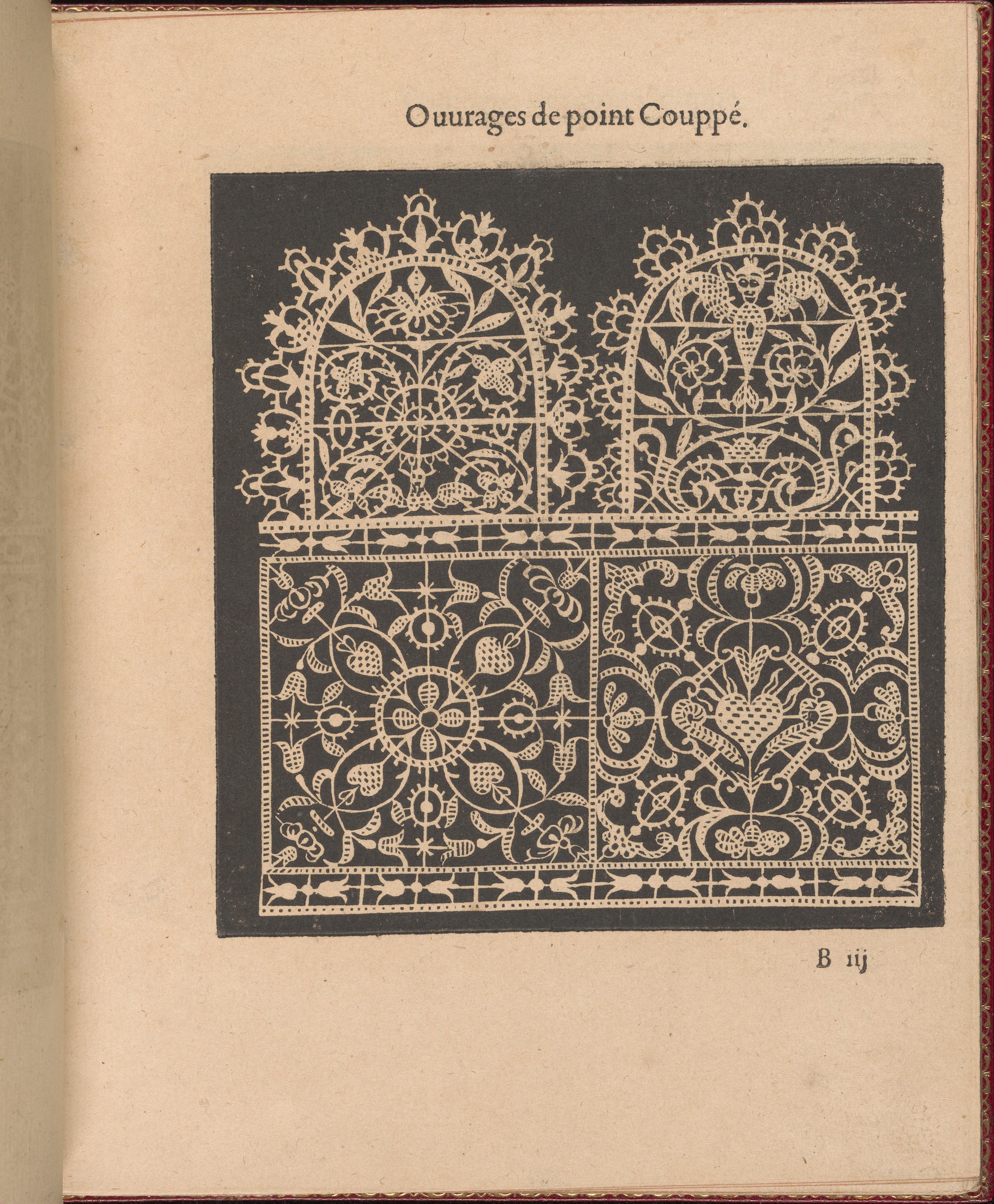 Early model books included simple geometric patterns, but by the end of the 1600s, needle lace became a complex with figural designs, fanciful creatures, and even hearts. For my project, I focused on a pattern from a 1550s model book.
The Pattern
"There is something to be said for simplicity." Is something I said to myself as I was rying to chose a pattern. And in doing so, I chose the left most pattern from this folio of Mateo Pagano's patterns.
And I translated it onto graph paper. This piece will be made using a 2×3 inch rectangle of drawn thread linen All of the darkened areas will be a button hole fill. the rest will be needle lace button hole stitches. It should be quite the accomplishment if I manage to get this done in a month! I plan to use the linen thread I purchased but did not end up using for my Lacis Project.
For this pattern, I will draw the threads from the 2×3 area, leaving two threads every half inch which will be the foundation of the design and the starting point for many of the stitches.
Stitches
Needle lace is made out of different variations of the button hole stitch. There are many great books and videos out there on these stitches, though only some of them apply to needle lace as it would have been done in the 1500s.
My favorite is the Needle-Made Lace of Reticella available at Lacis. It has great diagrams of the stitches. Another great resource is Sabrina de la Bere's handout on Reticella which includes some history on the subject. Her stitch diagrams are certainly better than what I could draw free hand.
The basic stitch is Button Hole Stitch. This can be used to either create a solid fill pattern, a netted pattern or covered loops. These are put together in masterful lacy designs such as those seen in the aforementioned model books.
Bibliography
Simply Elegant, Pagano's Early Reticella Lace Designs, 1544-1554 Venice. Matteo Pagino (Edited by Helen Hough, Allesandra Caputo, & Hastings Sanderson). A reprinting/digitization of Pagino's reticella modelbook.
Giardineto novo di punti tagliati et gropposi per exercitio & ornamento delle donne (Venice 1554) Mateo Pagano. Images of Mateo's original printed model book.
Reticella: A walk through the beginnings of Lace with Sabrina de la Bere.
The Needle-Made Lace of Reticella by Jules and Kaethre Kliot
Needle Lace Techniques for Hand Embroidery by Hazel Blomkamp
Needle-Made Laces and Net Embroideries: Reticella Work, Carrickmacross Lace, Princess Lace and Other Traditional Techniques by Doris Campbell Preston
Renaissance Patterns for Lace, Embroidery and Needlepoint by Federico Vinciolo
Reticella — Textile Research Center
Support:
If you would like to support my art, you can donate using Ko-Fi by clicking this button: