This needlework piece is part of my ongoing exploration of different medieval embroidery styles. A full explanation of the project can be found here.
Lacis is one of those strange forms of embroidery that is daunting and difficult because it is so alien to the usual suspects of embroidery (i.e.: stitching on fabric). However, it is no different from needle lace, which is very similar to button hole and three dimensional embroideries found on padded work, and can use similar techniques to drawn thread work, and thus shouldn't be so daunting at all.
Lacis is a type of fillet style needle lace that is made on a net. This net can be woven or knotted and there are many different kinds and sizes to chose from. There are also different stitches chose including linen stitch and a running stitch which weaves up and down through the mesh. When it is done on a woven net, it is often called burratto, and when on a knotted net as lacis, but these terms are not set in stone.
If you zoom in on this 16th Century "End of a Cover" you can see that it is made by recreating a woven ground through linen stitch.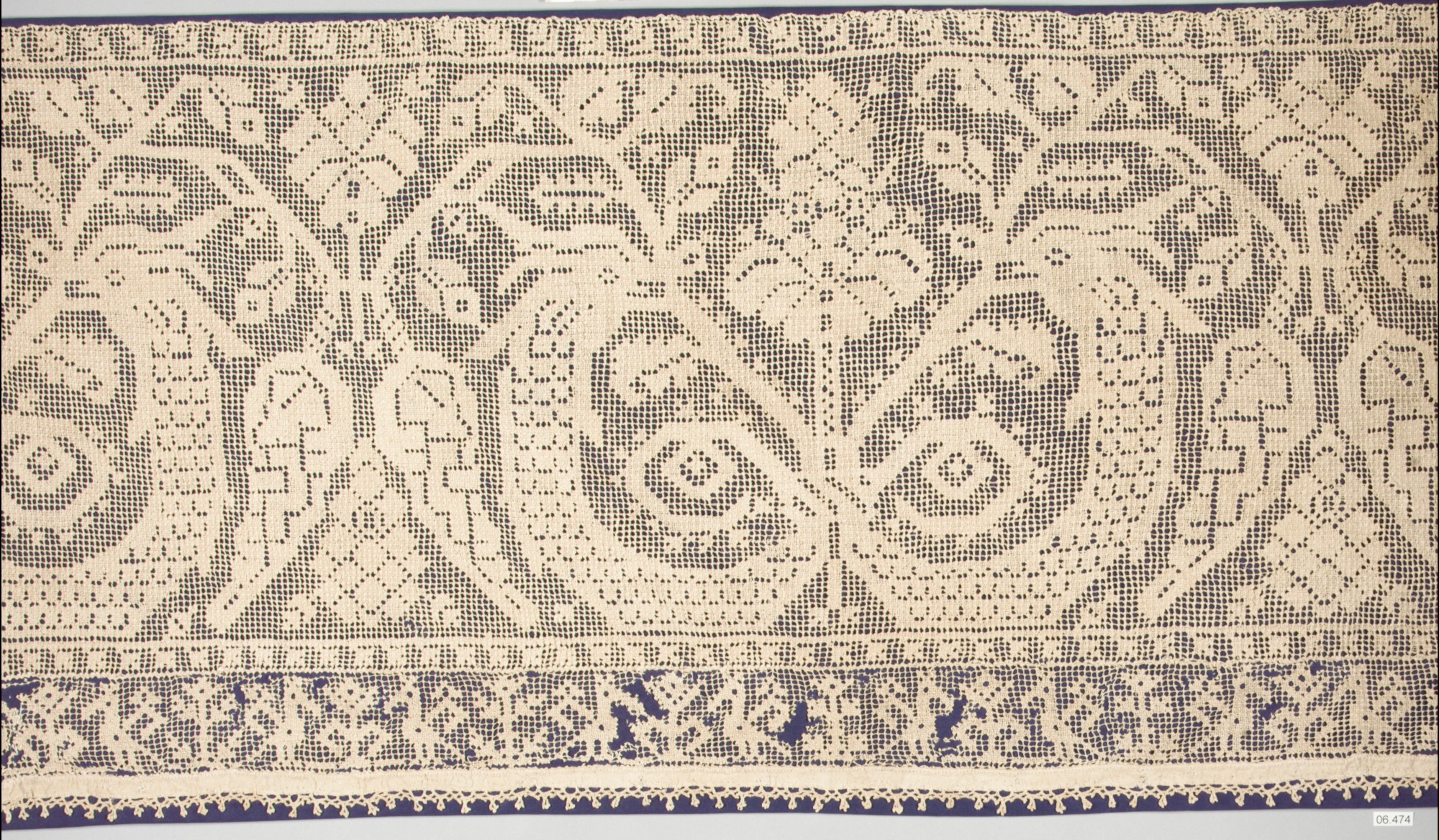 Here is an image which shows lacis in progress.
Materials and Pattern
For this project I used my winnings from the Settmour Swamp Mudthaw Arts and Sciences Competition to purchase some 6HPI darning net from Lacis.com. You can find it under the Tulle and Netting category. I also purchased some 1 Bockens 35/2 Lace Linen from the Eugene Textile Center. However, upon doing a sample piece with this linen thread I found it was far too small for the 6 square per inch netting. I did another sample with my 20/2 Silk, and it worked really well! It also gave me a chance to understand the process a little better. Rather than try and find a similarly sized linen, I'm going to go ahead and make this needle case using the silk. Silk was used in some period lacis, especially ones with colored motifs.
In this sample, the top stitches are made using the thin linen thread and the bottom ones are made with the silk. You can see that I struggled with the linen stitches for half of it, but the stitches on the right look a whole lot better. I really learned how these stitches work as I stitched this sample.
I have charted the below patterns based on the "End of a Cover" pictured above.
I have never done anything like this before so it will be a fun journey!
Bibliography
The Nordic Needle diagrams for Linen Stitch and Edge stitch
Textile Research Center Burratto Lace
Textile Research Center Lacis
Patterns of Lacis Lace from the Lacis Publications (Berkley)
Lacis (Filet Brode) Available through the Antique Pattern Library
Support:
If you would like to support my art, you can donate using Ko-Fi by clicking this button: