While planning out my German Brickstitch project, I wondered aloud to the embroidery guild, how did they mark their fabric for embroidering? And how did they paint the little faces and text on the embroideries?
Transferring a design to fabric:
It is a known quantity that for many different art mediums, during the middle ages, they would use the prick and pounce method to transfer a drawing on paper or parchment to another surface, such as canvas, fresco, or fabric. Artists and their workshops, like Da Vinci, Michaelangelo or Rafael would make large drawings of their fresco scenes, and then poke small holes in the drawings, hold the paper up to the fresco they were going to work on, and then use a felt dabbing tool to dab charcoal onto the sheet so the charcoal goes through the holes onto the wall.
The same method is used in needle working. The Victoria and Albert Museum has a short video demonstrating this and other techniques here. Needle'n'Thread has a great article on how to do this technique here. Most modern blogs will tell you, after you add the charcoal, you then have to go in with a pen or pencil and connect the dots of your design. And here is the rub, thats not historically accurate because medieval folks had neither modern pens nor pencil!
Alternatively, if you didn't use the Prick and Pounce method you would just draw your design directly onto the fabric! Amalie Von Hohensee pointed out the prick and pounce method would only be used if you happened to be making a repeated design as the method is arduous and time consuming if you are only going to use your pattern once. Never the less, they had to draw the design on the fabric somehow.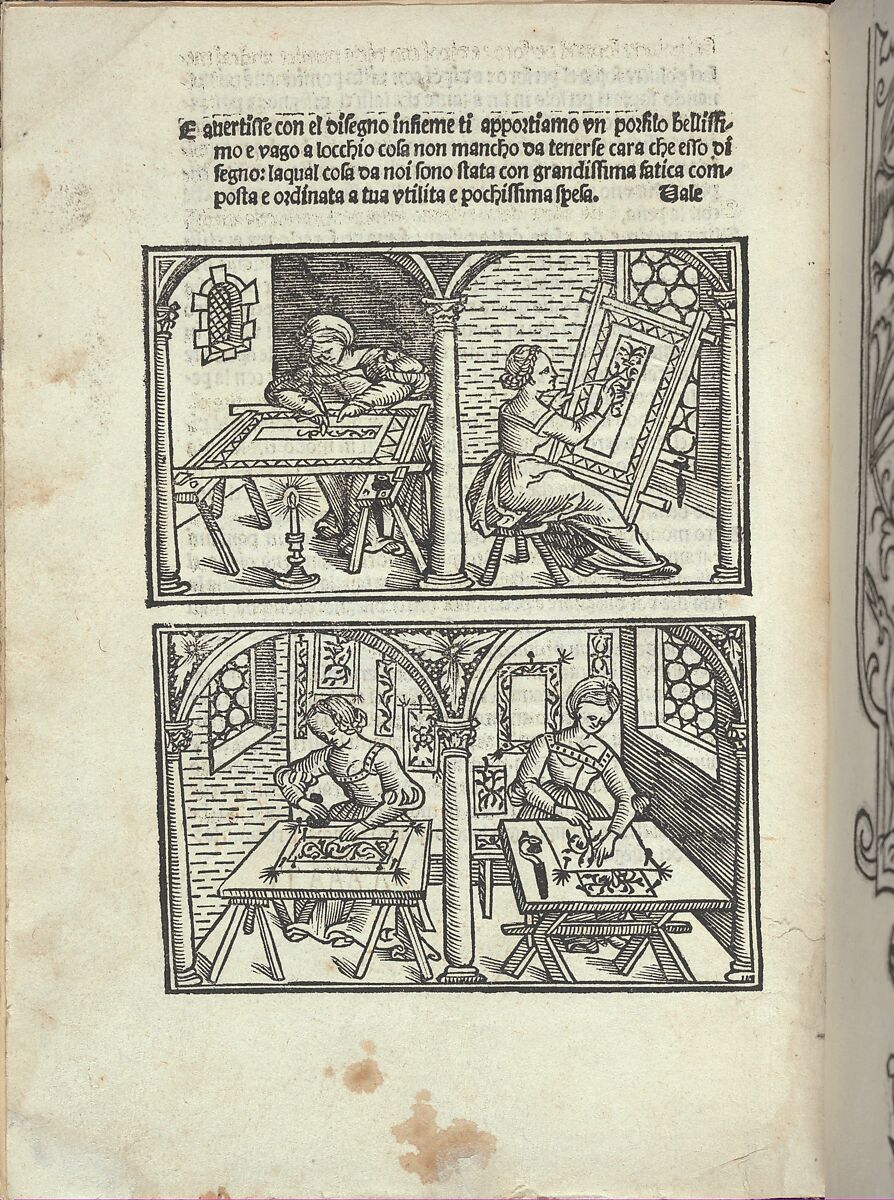 So I asked around, what kinds of inks might they use? The answer is I am not quite sure, but its likely they would have used some of the inks or paints that were popular in other areas. For example, simple watercolor paint is pigment mixed with a binding agent, usually gum arabic. This medium has been used in painting since ancient Egypt. The ink created by mixing pigment in this medium is non abrasive to natural materials such as fabric.
Another possibility suggested to me was an ink. One of the cool and exciting things about medieval inks is that medieval writers liked to write about them. One such treatise published in 1596 has all sorts of recipes to make inks and can be found here. However, I was warned, that some inks are caustic to plant materials, and often degrade paper very quickly, while they work on parchment (animal skins) perfectly.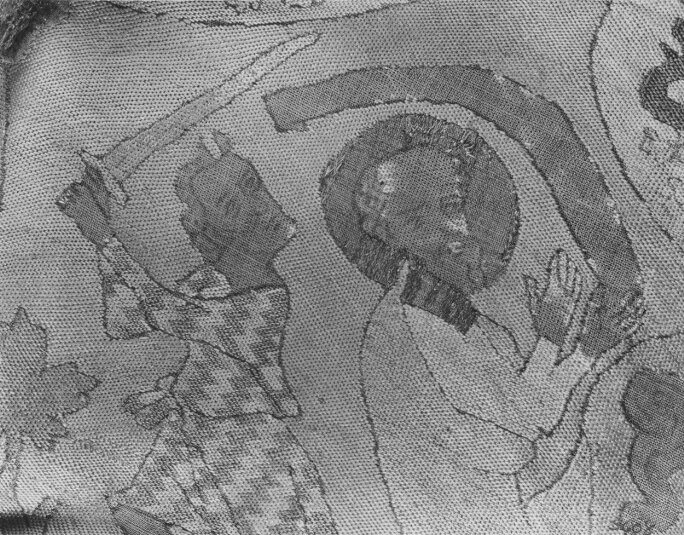 One of the things I noticed immediately upon examining the Hildesheim Cope is that the faces are more degraded than any other part of the piece. And while the pictures of the Cope are not the best in the world, its clear that the faces did not hold up as well as the rest. One of the reasons I posit, is that they were made with longer stitches, in a manner discussed in my last post on this project. The other reason, is I think they might have used an ink on the faces that caused them to degrade quicker than other parts of the fabric. This is emphasized in my mind, by the fact that the scrolls that also would have included painted text are also degraded and missing. Additionally, it is possible that the method/tools used to paint the faces on the under drawing were caustic to the silk damaging it and speeding up the degradation process.
There are other reasons for missing faces. The faces and scrolls could have been decorated with goldwork that has been removed, which is a common cause for textile destruction. Perhaps the painted inks faded and someone tried badly to repair them by embroidering new ones, and then someone thought they were ugly and ripped the stitches out. Such is the life of a medieval embroidery.
However, we know that the kind of paint that was used on the linen ground was not caustic to the linen and has held up well over time. And we also know that the Met piece, that I am basing my work off of had inks that worked fine on silks and the linen ground.
Experiments in Ink
My first avenue of research is some primary sources. Cennino Cennini wrote a treatise in the 1400s called the Craftsman's Handbook where he describes a process where artists might draw an under drawing on a fabric for an embroiderer. In his experience, painters or other artists would draw on the canvas using charcoal. Then they would use their "pen and your pure ink, and reinforce" the design before brushing away the charcoal. Then, the artist might paint in shadows using diluted ink as a guide for the embroiderer. This method produces a preprinted design similar to kits you might find in stores today.
To test these different ideas and search for the most ideal ink for embroideries I decided I would do several samples:
Vine Charcoal and Gum Arabic
Vine Charcoal and Linseed Oil
Lamp Black and Gum Arabic
Lamp Black and Linseed Oil
Materials:
Modern 2/0 Size Brush
Midweight linen typical for embroidery
Water container and mixing pallet (a clean plastic container with lid will do)
Winsor and Newton Gum Arabic liquid medium
Winsor and Newton Linseed Oil
Vine Charcoal Powder
An old spoon and candle (for lamp black production)
Each of these samples were made using a modern 2/0 size brush to create fine details on a fine midweight linen typical for what I choose to embroidery on. I did my best to achieve a similar consistency and saturation with the inks. I purchased Winsor and Newton brand Gum Arabic and Linseed Oil mediums. This gum Arabic is pre-mixed into a liquid but it would have been made by grinding the gum/Acacia tree sap into a fine powder and then mixing it with water. Solid Gum Arabic can be purchase both from artist supply stores, but also food supply stores online. I intend to try a sample with this medium in the future.
Vine Charcoal:
I purchased some powdered vine charcoal from an artist's supply company and mixed it with Gum Arabic (labeled G) and Linseed Oil (labeled L).
I found the linseed oil ink to be rather oily and more difficult to control than the gum.
Lamp Black:
Lamp black is surprisingly easy to make. All you need is a candle and a spoon. You place your spoon over an open flame until soot collects on the surface. Then you scrape the soot off the spoon. Thats your pigment! This was incredibly easy to make and used materials that any embroiderer would have had access to.
I did the same experiment as before mixing it with Gum Arabic (labeled G) and Linseed Oil (labeled L).
I think this lampblack sample was a little more watery than my charcoal, but it turned out very similar. The linseed oil sample was less oily, but I liked the way the gum performed more.
To read more about my research including all the foot notes and bibliography download a copy of my documentation:
Painting on Silk Faces
One of the most charming thinks about the wall hanging at the met is the drawn on faces.
The drawn on eyes, the lines in his beard, and their lovely pink cheeks are all just perfect. And we also have painted text in the scroll that goes over their heads identifying the scene. The ends of the scroll are even painted to give them a three dimensional look! This is important in a largely one dimensional wall hanging.
What type of ink did artisans use to paint on these faces? Well, this is my next area of exploration. Check back on my blog soon to find out more information!
References:
Cennino Cennini, Il Libro dell Arte, The Craftsman's Handbook, Translated by Daniel V. Thompson. (Yale University Press, 1960).
Childress, Diana D. Johannes Gutenberg and the Printing Press (Twenty-First Century Books, 2007).
Kroustallis, Stefanos. "Binding Media in Medieval Manuscript Illumination: A Source Research" Revista De Historia Da Arte No Especial 2011 (January 2011).
Lemay, Mary-France "Iron Gall Ink" the Traveling Scriptorium, a Teaching Kit by the Yale University Library (Accessed 5/9/21) https://travelingscriptorium.wordpress.com/2013/03/21/iron-gall-ink/
Sauerberg, Marie Louise. Medieval Artistic Practice: Precursors in Medieval Paint Technology, Abstract from Academic Workshops (2007-8) Funded by the Arts and Humanities Research Council.
Thompson, Daniel V. The Materials of Medieval Painting (Yale University Press 1936).
Blogs:
Opus Elanae Prick and Pounce Tutorial
Needle N Thread Prick and Pounce Tutorial
Video of the Prick and Pounce Method by the V&A
Ink Making:
Support:
If you would like to support my art, you can donate using Ko-Fi by clicking this button: