This needlework piece is part of my ongoing exploration of different medieval embroidery styles. A full explanation of the project can be found here.
No your eyes do not deceive you. It is not yet March, but February's embroidery worked up quickly, so we stitch onward!
What is Brick Stitch?
German Brickstitch (sometimes called Opus Teutonicum) is a style of needlework using counted threads and done on an even weave ground. It is seen from the 13th to mid 15th centuries. Brick stitch incorporates several different stitches (other than brick stitch) including other needle point stitches like tent stitch. We find examples of brick stitch throughout Europe on both ecclesiastical pieces and more secular heraldic patterns. But generally these patterns have a Germanic origin. Due to the geometric nature, it was a great way to label objects and gifts with your heraldry!
For this month's needle case I will be completely covering my canvas, but not all German brickwork embroideries completely cover the field. There is an entire subsection of this embroidery that uses linen thread on a white linen ground to create textured patterns across the field.
The Trials and Tribulations of Pattern Drafting
Long long ago, in a time far away, I had great ambitions of drafting my own patterns based off of this piece at the Metropolitan Museum of art using graph paper.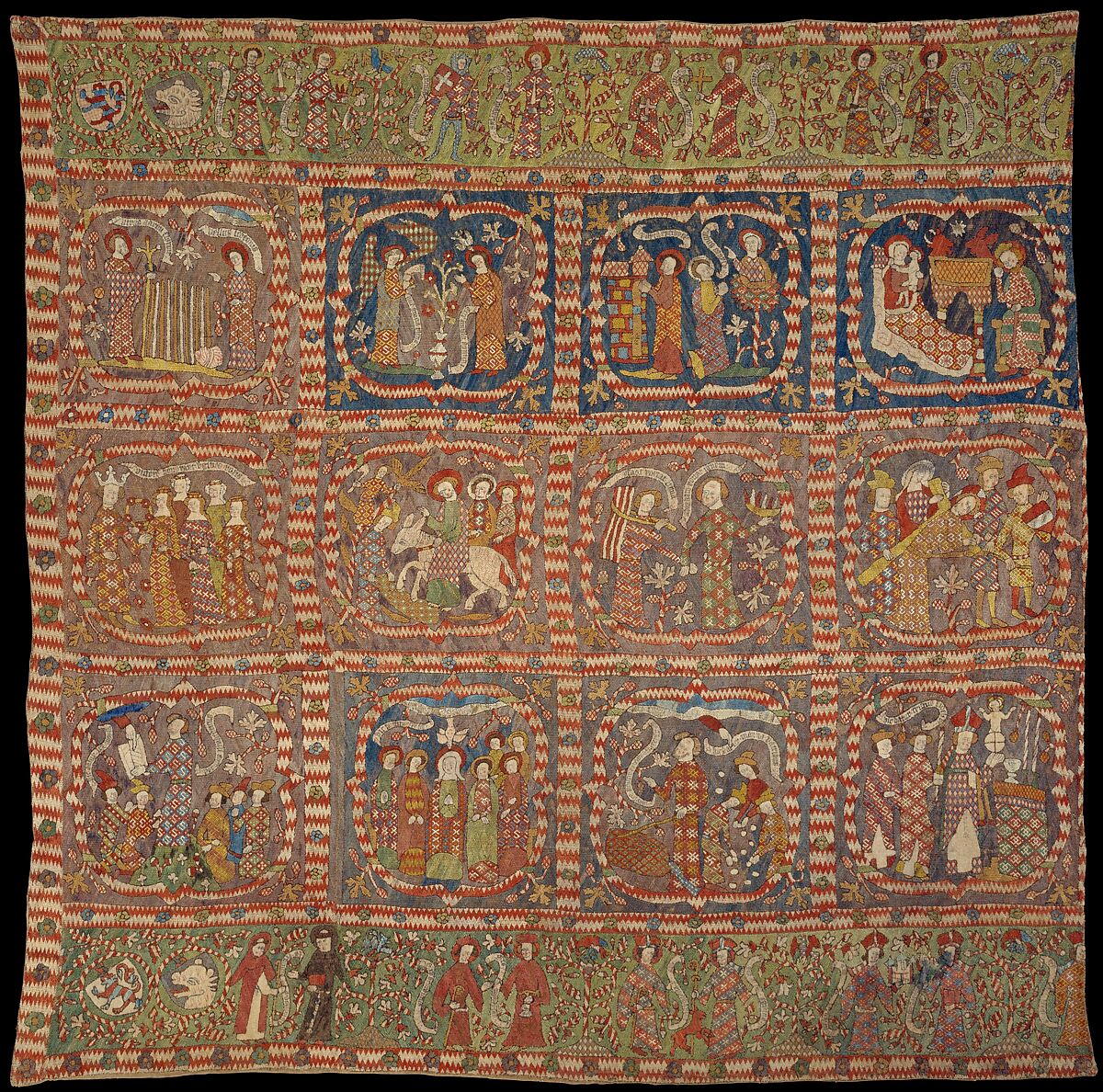 I am someone who generally learns by seeing, and can easily pickup patterns (see my blackwork piece for details). But, as soon as I sat down to chart patterns I was completely lost at trying to get them to behave. So, I did what you should do when you get stuck, I looked at patterns that other great artisans have taken from extant works.
I had zeroed in on the patterns that adorn the dresses of these lovely ladies as a few patterns I would like to try:
First I looked at Wymarc.com which had been recommended to me for Brick Stitch patterns. But I did not see any patterns that closely resembled these. And I plodded along charting some patterns and generally made a big mess of my graph paper.
Then I looked at Raclair's Workshop and I found a similar pattern that was featured elsewhere on this wall hanging, which blessedly took me to a chart done by Taschen which actually charts patterns from the above wall hanging: Click here for pattern.
So now at least I have a place to start! And here is the point where Scolastica looks inside herself and says, do I want to reinvent the wheel? Sure! The first thing I did was print out the pattern and cut out the shapes to see if I could rearrange them together in the x pattern above. And once I did that (and made a mess) I tried to tape them together. This was a bigger mess. And then, I thought why don't I just do this in MS paint? I printed out and used this pattern, and after working on this style of embroidery for a while, I was able to chart the pattern on dot grid paper to share with you!
As noted in February I purchased size 20/2 silk Red, Gold, and Blue silks for this project. I will stitch the ground blue and the Xs red and gold. I hope it turns out!
** A Note: About 3 hours into stitching I had the panic filled moment of realizing there is a hidden reversed swastika like shape in the background of this pattern. I do think the x pattern "raises to the top" of your vision, but if you are embroidering with this pattern, its something to be aware of sooner rather than later. My apologies if I cause anyone offense. None was intended. These geometric patterns are lovely but, it is so easy when making something geometric like this to have unhappy surprises if you aren't keeping a watchful eye.
To Purchase materials:
20/2 Size silk thread: Eowyn de Wever on Etsy
28 count even weave linen from Charles Craft: Garibaldi's Needle Works on Etsy
For further Research
The Opus Teutonicum (German Embroidery) Research by Benedicte Meffre and Claire De Pourtales.
Long and Short Stitch by the Textile Research Center
Blogs I found helpful on this journey:
Wymarc.com Charted Patterns Including historical information and museum research
Medieval Arts and Crafts Including some great charted patterns and a good article on charting patterns in photo shop, which I imagine is a better idea than MS Paint: Charting Patterns in Photo Shop
Helen's Stuff includes charted patterns including some from this wall hanging!
Support:
If you would like to support my art, you can donate using Ko-Fi by clicking this button: